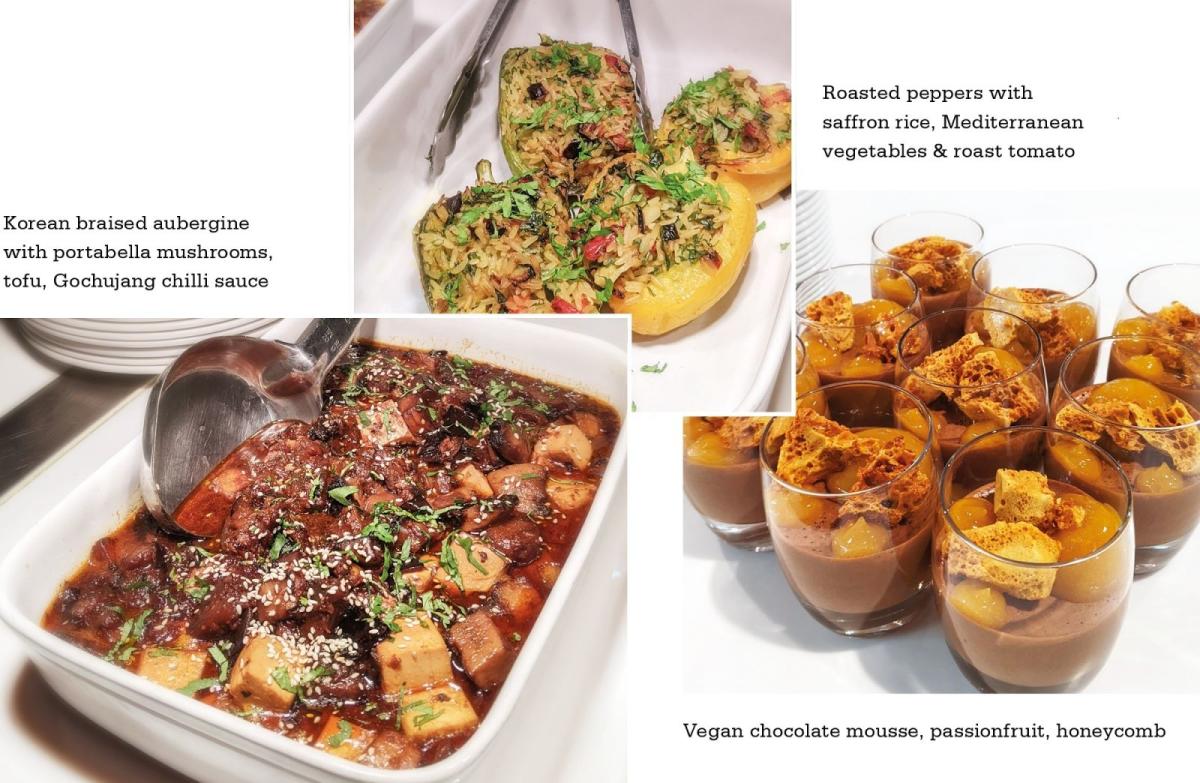 This January, the Manchester Met Conference Office welcomes The Better Business Summit to the Business School. The summit will bring business leaders together who want to redefine what it means to create a better, more sustainable world.
In line with their commitment (and Manchester Met's) to making events sustainable and impactful, the menu will be fully vegan. Plant-based foods require less energy and produce less emissions than animal products. Therefore, choosing a vegetarian or vegan menu will significantly reduce the carbon footprint of your event. The University have several tasty vegan and vegetarian options on their menu, including a hot fork vegan buffet or a choice of three GROW salad bowls with open baguettes.
Hannah Cox (Founder at Better Not Stop, Better Business Network and Better Business Summit) attended a vegan food tasting, here's what she had to say about our vegan hot fork buffet:
"As a sustainable impact agency it's so important that where we host events aligns with our and our attendees values. That's why putting on the inaugural Better Business Summit had to take place at Manchester Met University.
We chose to go with the Vegan Hot menu for several reasons - It meant that all our delegates were catered with the same incredible food, it was the sustainable option, providing a much lower carbon footprint than a meat-based menu, and the communal nature of providing a hot meal people can sit down and enjoy provides multiple benefits for your attendees […] We could tell the vegan menu was well thought out and balanced, with a depth of flavour to all the dishes. After tasting the menu we knew it was would be an incredibly positive talking point of the event - it was amazing! We can't wait to get everyone else's feedback!"
More details on The Better Business Summit can be found here https://betterbusinesssummit.uk/.
Top 3 in The People and Planet University League:
For the past decade, Manchester Metropolitan University has been voted as one of the UK's most sustainable universities in the People and Planet University League. The League assesses all UK universities' environmental and ethical performance. Manchester Metropolitan University scored highly in policy and strategy, environmental auditing and management, sustainable food and carbon management.
Manchester Metropolitan University has made a firm commitment to supporting Manchester's city-region on its journey to net zero carbon before 2038. To support this journey, the Conference and Events team have completed Carbon Literacy training and have made a pledge to increase sustainable practices across the university, particularly at events. Louise Milne, Conference and Events Co-Ordinator at the University, said "I am committed to educating clients and supporting them in delivering successful sustainable events. Sustainability is embedded into everything that we do at the university which makes it a great venue to host any event. I'm so pleased Manchester Met University has been chosen to host The Better Business Summit as it's a fantastic opportunity to promote sustainability to businesses across the UK".
Find out how we can help make your event more sustainable here https://venues.mmu.ac.uk/about/sustainability/
Save money and the planet by going green:
The Conference Office are extremely proud to be one of the most sustainable universities in the UK. To celebrate this success, if you opt for a fully vegan lunch menu, they will offer a 20% discount on their day delegate rate if attendee numbers exceed 80, or a 10% discount on our day delegate rate or room hire rate if numbers are lower than 80. This offer applies for enquires received between 17th January – 28th February 2023. This offer does not apply to existing bookings.
To book your next sustainable event please contact the Conference Office venues@mmu.ac.uk