Following the successful preview of its new home during Manchester International Festival, Factory International – the organisation behind the biennial festival and the landmark new venue –  reveals details about the venue hire offering of Aviva Studios.
Aviva Studios, Manchester's landmark new venue, will officially open its doors in October 2023, creating a global destination for arts, music and culture in the heart of the city.  Alongside an ambitious programme of original creative work, music and special events - from intimate concerts to immersive installations – Aviva Studios will also be available for venue hire.
Ahead of its official opening, the state-of-the-art venue which is the new permanent home of Factory International hosted a series of events as part of the city-wide Manchester International Festival, including a spectacular exhibition of inflatable sculptures by one of the world's most loved artists, Yayoi Kusama (continuing until 28 August), a series of gigs in the hall and a host of free performances and activities in the newly created public spaces outside
Already proving a hit with audiences and critics alike, accolades include the venue being described as "ready to compete with any other arts space in the UK" by Time Out London, a "potentially game-changing cultural landmark" by Creative Boom, and "Britain's most exciting new music venue" The Times
A space for invention and discovery, the design of Aviva Studios is led by Ellen van Loon of the world-leading practice Office for Metropolitan Architecture (OMA) – their first major public building in the UK. Built with flexibility in mind, the building is based around large, open, adaptable spaces that can be constantly reconfigured. Matching Manchester's ethos as an ever-evolving city, the dynamic space provides a canvas to make, explore and experiment.
The 13,350 square metre building has three unique, industrial yet modern spaces – the Warehouse, the Hall, the Social – that can work together or separately and flex to every need – as well as a riverside space outside. The 21m high Warehouse has capacity for up to 5,000 people, and can also be divided by a movable, full-height acoustic wall, while the Hall which can house up to 2,000 people, with both spaces also having the potential to work together.
Located in the St John's neighbourhood next to the River Irwell, Aviva Studios is at the heart of a burgeoning city centre hub for culture, creativity and digital innovation, with a range of transport links connecting the venue to all that the region has to offer and beyond.
Hiring Aviva Studios also provides organisers access to the venue's dedicated in-house event, technical and production teams to seamlessly bring the event vision to life.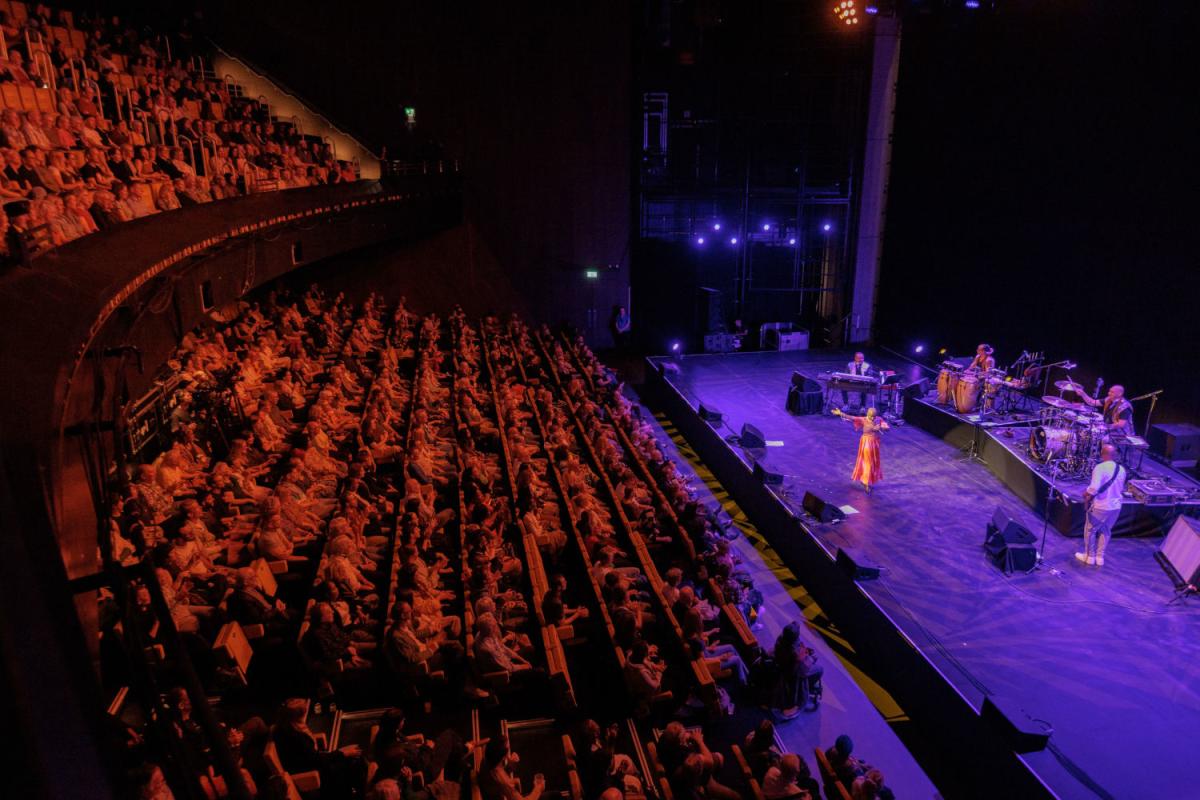 Angélique Kidjo performs at Aviva Studios home of Factory International. Photo credit: Jody Hartley.
Event organisers that choose to host at Aviva Studios will also be directly supporting Factory International's work to drive diversity, community, sustainability and the future of the arts. The Factory Academy is an award-winning programme of training that makes creative skills and opportunities accessible to local people from all backgrounds and helps support them develop careers in the creative industries.
They will also support Factory International's pioneering creative engagement work, from learning programmes designed to improve life outcomes, health and happiness for local residents to initiatives that widen participation in the cultural sector. 
Factory International is committed to making a positive difference to the planet too, with a focus is on in-venue innovations that enhance experience while reducing environmental impact, creating more sustainable working practices and educating the next generation of talent.
Initial offerings include brand and product launches, filming and broadcast, brand activations, fashion events, awards and dinners, and conferences and exhibitions, but the team is available to discuss any event type.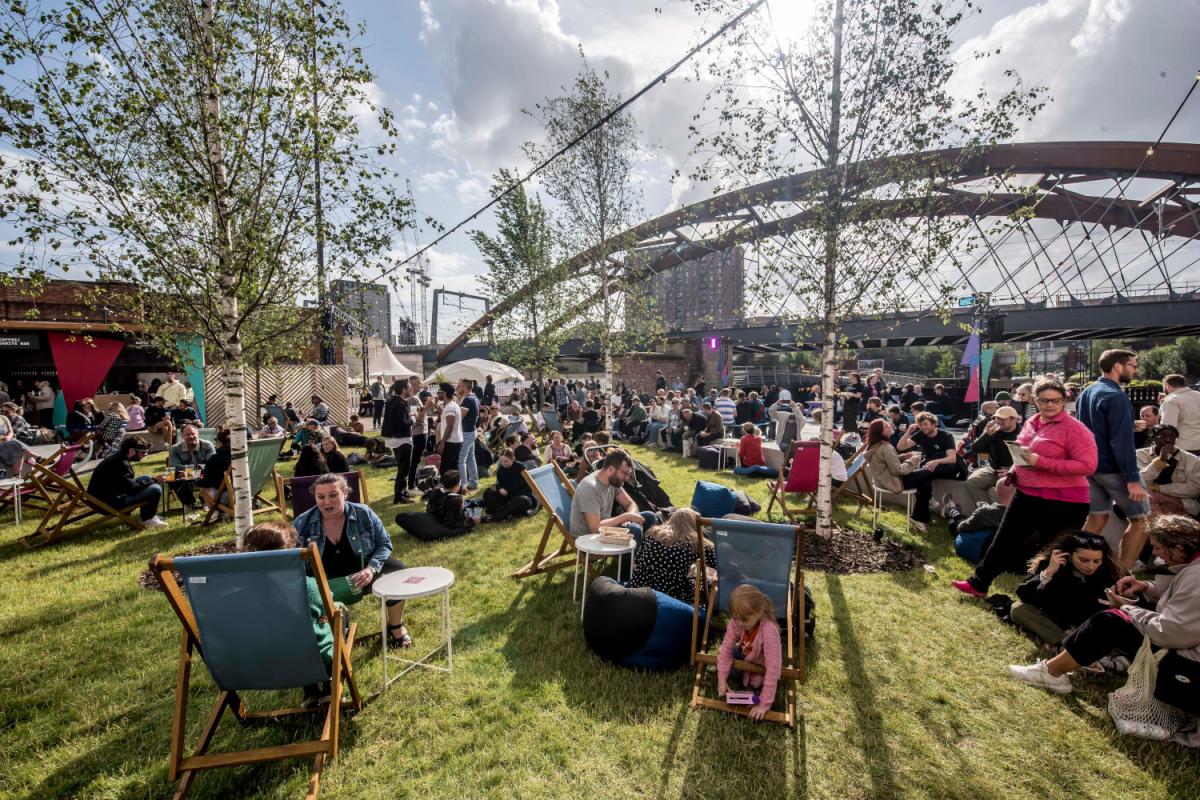 MIF23 Festival Square at Aviva Studios home of Factory International. Photo credit: Chris Payne.
Stephanie Williams Head of Events at Factory International said: "We are thrilled to announce the launch of the venue hire offering at Aviva Studios, an extraordinary space to bring events to life.
"We're looking forward to welcoming organisations from across the UK and beyond to this amazing space, and seeing the events calendar take shape alongside the exciting cultural programme.
"Aviva Studios will be a beacon for creativity and innovation, and we look forward to working with organisations to inspiring artists and audiences alike through our venue."
An historic long-term partnership has recently been announced between Aviva, Manchester City Council and Factory International, to support the construction and future life of the building. In recognition of this sponsorship, the venue was renamed as Aviva Studios. The long-term deal is a multi-million-pound investment by Aviva, the UK's leading insurance, wealth and retirement business. It is one of the most significant investments from the corporate sector into the arts in the UK.
Factory International is now seeking further brand partnerships to drive forward its programmes: https://factoryinternational.org/support/brand-corporate-partners/
To find out more about hosting an event at Aviva Studios, visit: https://factoryinternational.org/aviva-studios/hire/