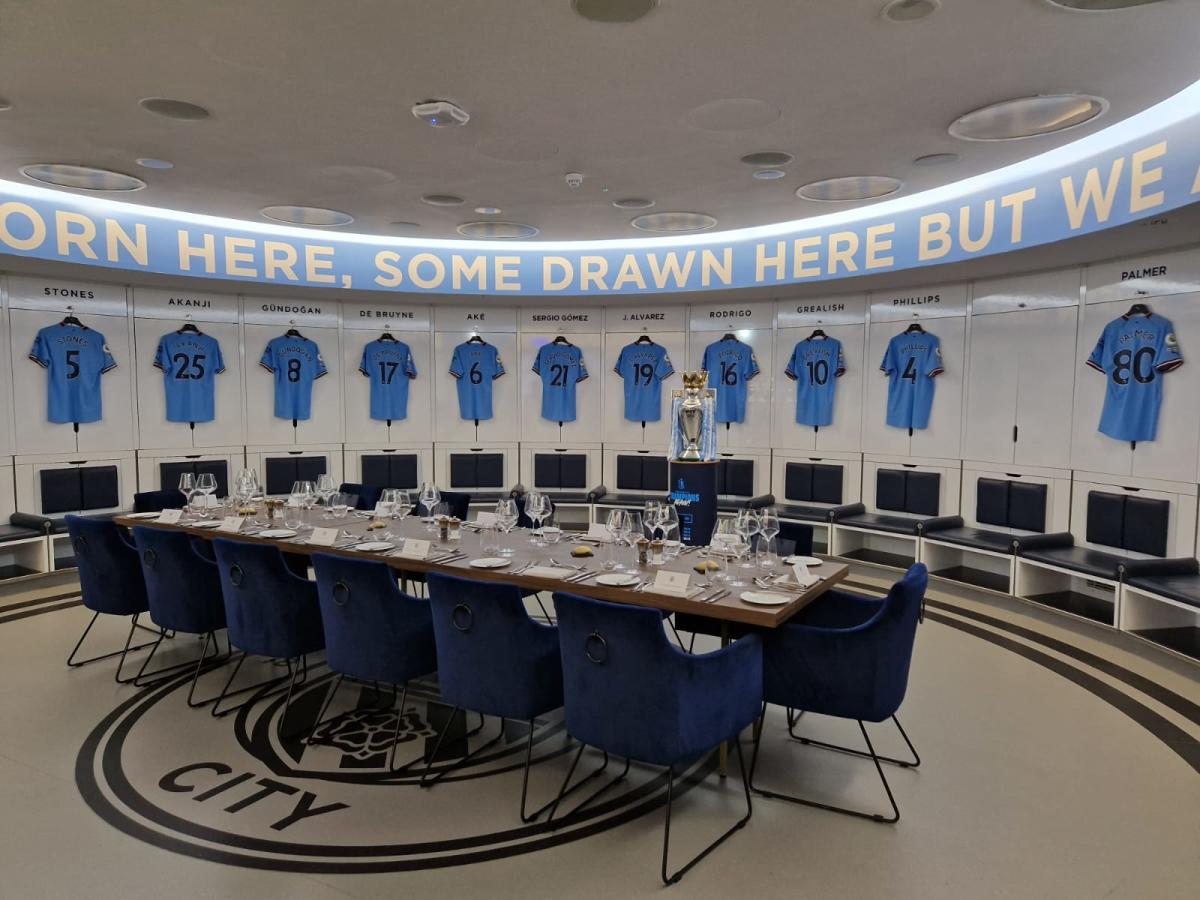 Manchester City Football Club have been crowned the UK's Premier League champions, the FA Cup champions and the winners of the Champions League, after an intense and historic season on the pitch.  
Manchester City have become the second team in English Football history to score the continental treble, with the previous team being Manchester United. What's more, this is only the tenth occasion a European side has won a Treble, marking a momentous moment in football history and a proud moment for both the club and fans. 2023, is certainly Manchester City's year, with the city turning blue in celebration. 
As the UK's home of football, Manchester is often a popular destination for fans of the sport. With two of the world's best-known clubs, the National Football Museum and a sporting heritage known worldwide, visitors to the city often focus their time here around the beautiful game, including those visiting for business. But, did you know that you can also host a conference or event fit for a champion at the Etihad Stadium and continue the celebrations? 
You don't have to be hosting a sporting event to take advantage of such a prestigious and iconic space. Whether you're looking for a space to hold a large conference, a stylish dinner or corporate party or even a smaller-scale meeting, Manchester City offers a range of stylish suites and outstanding facilities for conferences and events. With flexible packages, outstanding service, free parking and delicious dishes, hosting your next conference at this stadium will leave every delegate feeling like a champion. 
Manchester City offers bespoke high-end packages that can be very flexible to the needs of event planners and clients. Bespoke events can cater to the needs of football fanatics looking to learn more about the stadium or put on a trophy-worthy event that your delegates will talk about for decades.  
For example, Manchester City recently hosted a dinner for Aer Lingus in association with the Manchester Convention Bureau in the first team changing room, giving football fans not only a delicious dining experience but the chance to go behind the scenes at one of the sport's most iconic dressing rooms. Talk about feeling like part of a winning team!  
The Manchester Convention Bureau work closely with both Manchester City and event planners as part of their free, bespoke Venue Location Service. The service is designed to help you find the perfect location for your meeting, conference or event within Greater Manchester.  
With a great understanding of the spaces on offer at Manchester City and how they can be adapted to meet the needs of virtually every style of event, The Manchester Convention Bureau team can assist you in finding the perfect space based on your requirements. They can then put you in touch with their contact at Manchester City to ensure that you're Etihad event is the star of the season. 
With ten event spaces that are in a league of their own, each with views of one of the UK's most famous stadiums, an event at Manchester City's Etihad Stadium may just be the secret to creating an event that delegates will never forget. What could be more Mancunian and memorable? 
Here is a round-up of the event spaces and offerings that you can take advantage of as you host a league-winning conference: 
City's Football Academy 
Event planners can make use of Manchester City's Football Academy's facilities, this includes pitches, the media centre and the press room. If you're planning a sporting event, or fancy something a little unconventional for your event, this could be the space for you. It's perfect for team-building sessions, away days, corporate training and more. Where could be better to bring your team together and inspire productivity than in a place that builds the greatest football team in Europe? Whether you're looking to play on the pitches or enjoy world-class hospitality, this could be the greatest option for you.  
The Mancunian, located on the second floor of the Colin Bell Stand is a modern and stylish event space that offers guests panoramic views of the pitch. It can host up to 25 guests depending on the layout and as an exhibition space can accommodate up to 14 stands. The unique entrance to this private bar makes it a special choice for private events. 
Also in the Colin Bell Stand is The Chairmans Club, located in a prime position in the Etihad Stadium. On a match day, access to The Chairman's Club is one of the hottest tickets in town and its hospitality tickets are world-class. It's hosted famous names from football legends to The Gallagher brothers and is steeped in history. Enjoy luxurious seating, unbeatable views of the pitch and first-class catering. 
The Tunnel Club & Tunnel Club Premiere 
Split across two levels, The Asahi Super Dry Tunnel Club offers a collection of premium event spaces in the heart of the stadium. With multiple breakout areas, this space is ideal for conferences and meetings but with panoramic views of the pitch and built-in screens, it's a great option for product launches, dinners and celebrations. Hosting up to 280 people, this club could be the perfect setting for your next event. 
The Tunnel Club Premiere, on the basement level, offers guests a unique chance to go pitch side, see the central glass tunnel and access changing rooms if pre-booked with your event. This space for up to 180 guests could be an ideal option for football fans. 
If you're looking to host a smaller meeting, the Directors' Guest Lounge can host up to 60 people reception style or 30 people boardroom style. Its stylish interiors make it a great place to get down to business in the home of champions. 
The Legends Suite is the largest in the Etihad with a maximum capacity of 500 people, depending on the layout. Its floor-to-ceiling windows create a stylish, bright and modern event space with unrivalled views of one of the UK's most famous football pitches. It has inbuilt plasma screens, jumbo screens and electronic ribbons as well as a separate refreshment or exhibition breakout space. It has two private bars and its own outdoor space for event branding, display vehicles and more. 
93:20 can be divided into three spaces, offering a bit of flexibility to your event. Whether you're hosting breakout sessions, refreshments, pre-dinner drinks or private meetings, these three spaces can be tailored to suit your needs. Spanning the length of the South Stand, this space has inbuilt plasma screens which provide instant branding opportunities. 
With a maximum capacity of 80 reception style, Joe's offers event rooms with stylish wood-panelled walls, plasma screens and more. Offering excellent additional breakout space for the Legends Suite, 93:20 or The Chairman's Club, or as a smaller event space in its own right, Joe's is a stylish and sophisticated offering. 
On the second floor of the East Stand, The 1984 Club is a flexible events space that can be divided into three separate rooms, offering event planners flexibility. With its own private reception area and a private bar, this space is incredibly flexible and can be adapted for breakout spaces, exhibitions, corporate dinners or celebrations. 
Named after City's dedicated fanbase and delivering a wide range of events for the people, Citizens is located on the first floor of the East Stand and has something for everything. From conferences and exhibitions to Christmas parties and corporate dinners. With a maximum capacity of 400 depending on the layout and space for up to 28 exhibition stands, Citizens is a flexible event space that can suit you. 
Another of Manchester City's flexible event spaces, The Commonwealth Suite can be divided into three separate spaces making it ideal for larger meetings, exhibitions and conferences. On the ground floor, it's easily accessible and has an easily identifiable entrance on the East Stand. 
Bespoke Packages 
Alongside their incredible spaces, don't forget that Manchester City offers bespoke packages which can be tailored to meet your needs, taking advantage of all of the event spaces on offer and even exclusive spots like the changing rooms. The Manchester City team are happy to work with event planners to ensure their event is not only a success but worthy of champions. Make sure your delegates feel like winners! 
 
When it comes to hosting an event at the Etihad Stadium, you're sure to be top of the league every time, especially with the Manchester Convention Bureau and Manchester City event teams on your side. To learn more about hosting your conference or event at the Etihad Stadium, contact the Manchester Convention Bureau today. 
Submit your enquiry to find a suitable space for your meeting, conference or event across Greater Manchester.