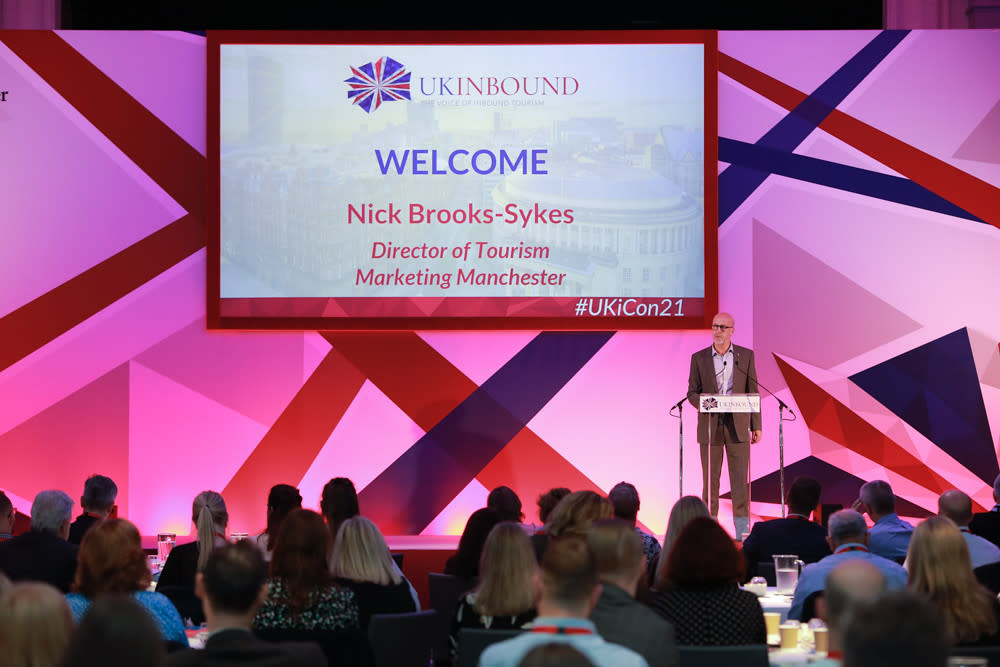 On Thursday 16 & Friday 17 September 2021, Marketing Manchester were delighted to host one of the most important events in the inbound tourism sector calendar, and the UK's first in-person national tourism conference post-Covid – the UKinbound Annual Convention.
Marketing Manchester bid for and won the conference in 2019 and it was originally scheduled to be held in February 2021 being pushed back to September.
UKinbound in the trade body that represents those working in and for the inbound tourism sector – both the suppliers (tourism businesses and destinations) and the buyers (tour operators and DMCs), the latter of which play a crucial role in determining the itineraries and locations sold by travel agencies in international markets. Also in attendance were all the leading Online Travel Agencies (OTA's) looking for new products to contract to their platforms.
The Convention began with an educational fam trip for ten key buyers who arrived in Manchester early and were treated to two days experiencing the city's bookable products.  The two day conference then followed – hosted at the Kimpton Clocktower Hotel – and was attended by 250 delegates, of whom 65 were the crucial buyers.
Day one saw presentations from across the sector, media and political leaders, as well as a destination workshop and a supplier fair where local businesses met with the buyers, and a networking party at Escape to Freight Island. Day two then consisted of a full day of "speed-dating" appointments where Marketing Manchester itself had 1-2-1 meetings with 30 buyers to discuss how they could add more Manchester products to their itineraries.
Joss Croft, CEO, UKinbound said, "International tourism is vitally important to the UK economy and will play an essential role in the revival of the UK's great cities such as Manchester. Our convention provides delegates with an array of commercial and networking opportunities that will help aid their recovery in 2022 and beyond. 2022 will be an exciting year for the country as we host Her Majesty's Platinum Jubilee, the Commonwealth Games and Festival UK 2022. Our Annual Convention ensures that businesses across the UK's inbound travel trade industry are in a strong position to make these events a success."
Sheona Southern, Managing Director at Marketing Manchester said, "We are thrilled to have hosted the UKinbound Annual Convention in Greater Manchester, bringing some highly influential delegates from across the tourism sector into the city for a two-day programme of much-needed talks, debates, discussions and face-to-face networking.
"The convention comes at a crucial time for the UK tourism sector, as it accelerates efforts to recover and rebuild from the impact of Coronavirus over the coming years. It is particularly important that we take the opportunity to use the event as a springboard to increase future demand in visitation to the region from international markets, and we plan to pull out all the stops to impress by showcasing the very best of our accommodation, attractions, hospitality and brand-new product."