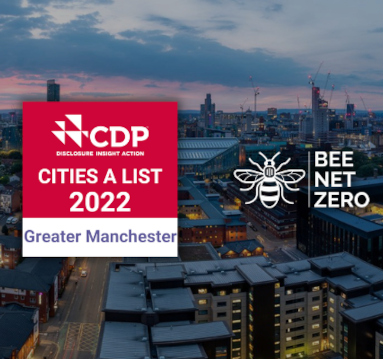 Manchester has been recognised by CDP as one of 123 cities across the globe that is taking bold leadership on environmental action and transparency, despite the pressures of a challenging global economic situation. 
Greater Manchester is one of only 12% of cities globally to receive an A score from CDP, proving that the city-region is establishing itself as a trailblazer in climate action.  
CDP is a not-for-profit charity that helps companies, cities, states and regions to manage their environmental impact and is seen as the gold standard of environmental reporting with the richest, most comprehensive dataset. 
Being recognised in the CDP list highlights the collaborative efforts from across Greater Manchester that are working to lower carbon emissions and create a greener, fairer city-region.   
To achieve an A List rating, cities must demonstrate their climate leadership through concerted and effective action, taking twice as many adaptation and mitigation methods as other cities.  
As one of the first places in the UK to set a science-based target, Greater Manchester hopes to achieve carbon neutrality by 2038, 12 years ahead of the UK Government goal and the city-region is currently accelerating action to ensure this target is met. This ranking proves Greater Manchester is making progress towards its goals. 
To score an A, a city must disclose publicly through CDP-ICLEI Track, have a city-wide emissions inventory and have a clear climate action plan - like Greater Manchester's five-year environment plan which forms the basis of the region's net zero ambitions. 
Collaboratively, Greater Manchester's political leaders, innovators, academics and communities are working together to face these challenges head-on.  
Steve Connor, CEO of Creative Concern and Green Lead for GMLEP said, "Manchester spearheaded the industrial revolution and this accolade from CDP proves that the city-region is now ready to lead the green revolution.  
"As an A List City, Greater Manchester is recognised for its ambition, leadership and transparency on climate action. Through collaboration, Greater Manchester has come together to develop creative solutions to the climate crisis and with our history of innovation and entrepreneurship, I'm confident we can scale up these solutions and put them into action to generate impactful results. 
"Greater Manchester is now recognised as a leader in climate action, but this is just the beginning. We must acknowledge that there is more to be done if we are to meet our 2038 target and become a net-zero city." 
What actions has Greater Manchester taken to earn A List status? 
Greater Manchester is working to become a greener, fairer and more prosperous city region for all residents. So far it has implemented the following initiatives and policies to encourage the decarbonisation of homes workplaces and public buildings, encourage the take up of green skills and support green innovation and investment across the city-region. 
• Launched a 5-year Environment Plan which recognises that the city-region's public sector, private sector and citizens must collaborate to create real change.   
• Greater Manchester was the first and largest city-region in the country to produce and adopt Local Area Energy Plans tailored to deliver locally generated renewable energy to every borough, setting out a detailed pathway for energy infrastructure changes 
• Greater Manchester has supported thousands of people to take action to decarbonise their homes, making them better insulated, less draughty, and heated sustainably. Greater Manchester's Retrofit Action Plan and Public Sector Decarbonisation Scheme outline ambitions to reduce carbon emissions from the city's existing building stock, one of its biggest emitters, with the help of a dedicated Retrofit Task Force and Retrofit Skills Hub to help carry out this work at scale. Greater Manchester has supported thousands of people to take action to decarbonise their homes, making them better insulated, less draughty, and heated sustainably. Greater Manchester has also invested £77.1m in retrofit and low-carbon energy generation for 200 public buildings. 
• Launched the Bee Net Zero initiative, a collaborative Greater Manchester programme to support organisations on their journey to becoming net zero, aiming to make Greater Manchester the easiest place for businesses to be net zero carbon 
• Launched the Go Neutral Smart Energy framework, analysing 4000 sites across GM for low carbon energy generation, storage and EV charging, a key part of Greater Manchester's public sector work to decarbonise its estate and create a smart energy system 
• The Trafford Green Hydrogen Park has received planning permission for will potentially be the largest green hydrogen production facility in the UK 
• City of Trees and GMCA have secured £300,000 of funding from Defra from the Woodland Creation Accelerator Fund to accelerate tree planting across Greater Manchester.  
• The region continues to recognise the importance of the urban environment with a Nature Recovery Strategy in place. Greater Manchester is looking at ways to improve the natural environment; everywhere.   
• Transport for Greater Manchester has been working to revolutionise its public transport and active travel by creating an integrated London-style public transport system, lowering and capping fares, electrifying vehicle fleets and enhancing active travel routes with bike hire schemes and new infrastructure. 
• Greater Manchester is investing in Green Innovation, research and development. Across the city-region's universities, you'll find a world-leading Graphene Institute, a Sustainable Materials Innovation Hub, and a Hydrogen Fuel Cell Innovation Centre alongside revolutionary living labs and Energy House labs to help find low-carbon solutions to today's biggest challenges. 
• Greater Manchester has launched a Green Skills Academy in Trafford Park created by The Growth Company. The academy, alongside many green skills bootcamps across the region, will allow businesses and individuals to gain the knowledge and skills which will place Greater Manchester at the forefront of emerging technologies. 
Greater Manchester also launched an Energy Innovation Agency to collaborate with innovators across the city-region to accelerate new inventions and ideas to create green energy. 
Rhys Whalley, Managing Director of MIDAS, Manchester's Inward Investment Agency said, "Greater Manchester's 2038 target for carbon neutrality – 12 years ahead of the national target - is a major catalyst for transformation across key areas of the city's infrastructure. This is creating a thriving environment for businesses and investors to land, grow and succeed in a wide variety of areas across smart energy, building retrofitting, green financing and beyond. Our investment in state-of-the-art facilities and nurturing a talented workforce with the skills required to support this green revolution means that the city region is well placed to continue to serve as a driver of urban-led sustainable change." 
Greater Manchester and the other 122 cities on this year's A List are celebrated for showing that urgent and impactful climate action - from ambitious emissions reduction targets to building resilience against climate change - is achievable at a global level, and in cities with different climate realities and priorities.