Manchester has been announced as the host of the World DanceSport Federation (WDSF) European Breaking Championships 2022. 
Breaking GB, under the auspices of DanceSport England (DSE), has been awarded the Championships, originally scheduled to take place in Russia, after a successful bid from Breaking GB and DSE, supported by Manchester City Council, Marketing Manchester and UK Sport investment from The National Lottery.
The event, which will take place at Manchester's Belle Vue Sports Village on 5-6 November 2022, will see Europe's top breakers bring their best moves and unique style to the dance floor. The audience are set to witness the most incredible action as the dancers go head-to-head, battling it out for the coveted European title. Some of the top male and female Olympic contenders including some of this season's major event winners will come together to compete to be crowned European Champion.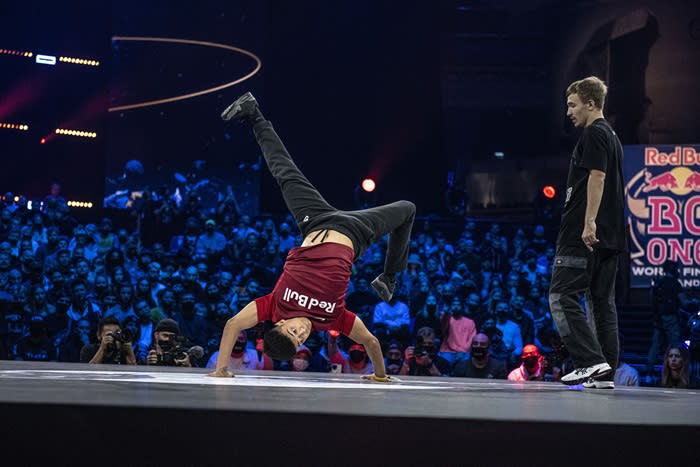 All of the dancers will display their raw talent and mind-blowing moves to impress the WDSF judging panel. With the highest tariff ranking points on offer, the competitors will leave it all on the floor as they look to build their qualification positions on the road to Paris 2024, where Breaking will feature on the Olympic programme for the first time.
With Manchester hosting the first ever Olympic pathway event for Breaking in the UK, this is an excellent opportunity to showcase this new sport to the British public and inspire the next generation of young people to get involved. Breaking's unique position within music, culture and sport allows it to be widely accessible and appealing to a youth audience.
Oliver 'Hooch' Whittle, President of Breaking GB said: "We are delighted to have been awarded the 2022 WDSF European Breaking Championships. It's a great opportunity for our homegrown talent to gain all-important ranking points on their journey to the Olympic Games."
Simon Morton, Director of Events at UK Sport said: "The UK has consistently proven itself as a global leader in hosting major sporting events. The chance to bring the WDSF European Breaking Championships to the UK for the first time, something which has been made possible thanks to National Lottery funding, is hugely exciting. With Breaking making its Olympic debut in Paris in less than two years, it's great that sports fans from across the Northwest and beyond will have the chance to see some of the world's best breakers up close."
Councillor John Hacking, Manchester City Council's Executive Member for Skills, Employment and Leisure, said: "We're pleased that our bid was accepted to host the 2022 WDSF European Breaking Championships and we're excited to welcome breakers and former world champions from across the continent to Manchester. Our city has a long history of hosting major sporting events, we were recently voted one of the top ten global cities for sport - making us the perfect place to host the championship. This is an exciting time for Breaking with the sport making its Olympic debut in 2024. These championships offer us a valuable opportunity to connect with a new audience and showcase a new Olympic sport to communities in Manchester."
Shawn Tay, WDSF President said: "We are convinced that DSE, Breaking GB and Manchester City Council will organize a world-class event together with admirable sporting values in a city celebrated for its prolific sports scene - Manchester."
Peter Maxwell, President of DSE said: "DSE is very proud to have helped and assisted Breaking GB in achieving this marvellous achievement. We were sure Breaking GB would be the perfect partner, amongst many available, to be the body able to deliver first class results. DSE is delighted, through the presentation of the European Breaking Championships, that we were correct and our cooperation will continue to even greater success" Join the Breaking GB social media channels below for more information on the event and upcoming ticket announcements.
For more information on how the Manchester Convention Bureau can assist you in bidding to host sport events in Manchester, please contact Chris.FitzGerald@marketingmanchester.com