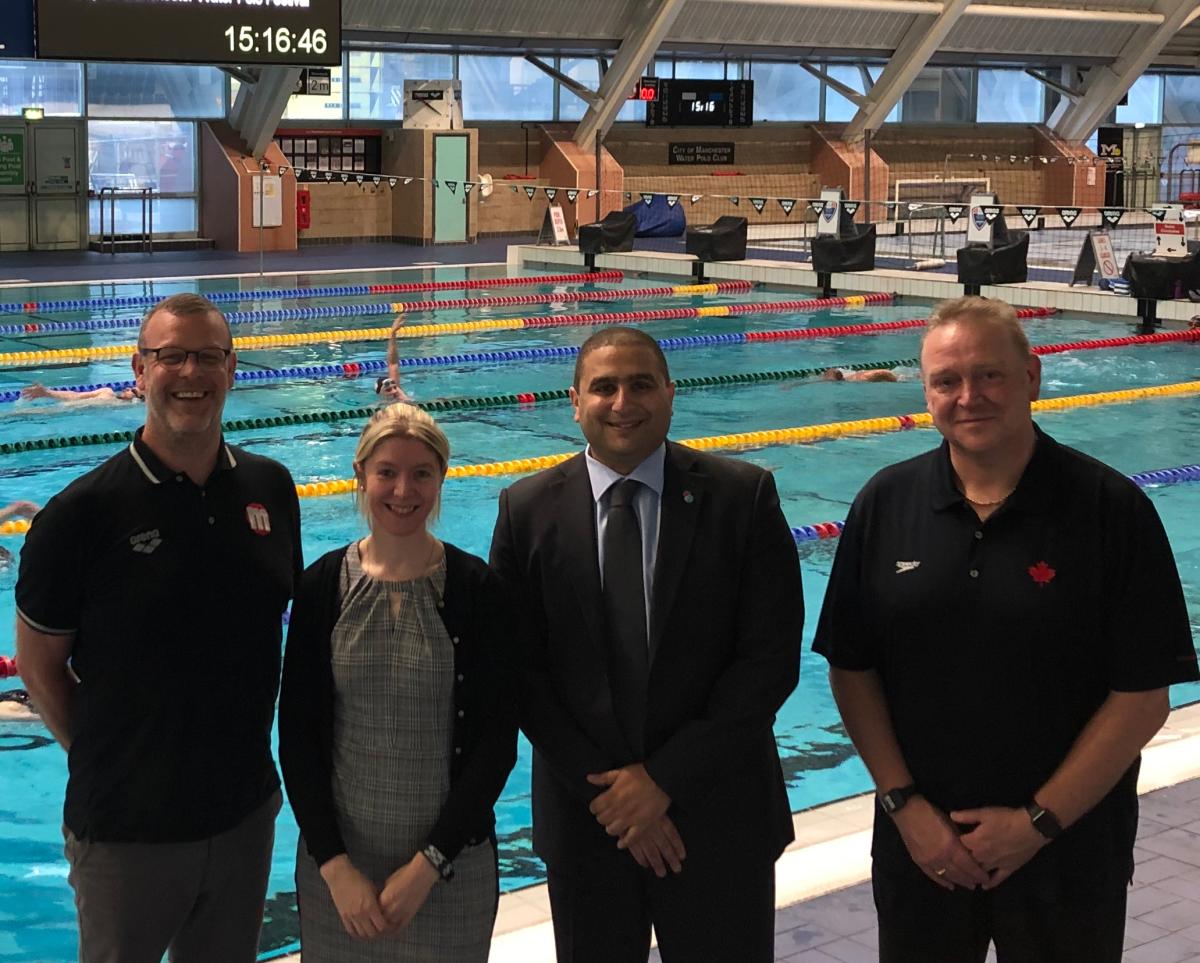 With its iconic architecture and network of canals, the city of Manchester, England, will host Canadian swimmers prior to the Birmingham 2022 Commonwealth Games.
A newly developed partnership between Swimming Canada, Manchester City Council and Marketing Manchester will give Team Canada a place to call home for its staging camp in July 2022. Before moving into the Commonwealth Games Village, athletes will train at the Manchester Aquatic Centre, and rest at a stylish IHG partner hotel. The Aquatic Centre, which was the venue for the last Commonwealth Games in England in 2002, includes an eight-lane, 50-metre competition pool, four-lane, 50-metre warm-up pool, 25-metre diving tank, and strength and conditioning facilities.
"The support in establishing this staging camp from Manchester City Council and Marketing Manchester has gone a long way in helping us feel confident that our team will have the optimal environment to prepare for success," Swimming Canada High Performance Director/National Coach John Atkinson said.
Aside from offering Canadian swimmers a location to prepare for competition, this new relationship aims to expand interest in the sport and spark community engagement. With potential for swimming clinics, coaching workshops, and community events, there is ample opportunity to work together to promote swimming and to showcase the city as a wonderful travel destination.
"We're delighted that the Swimming Canada team will come to Manchester to train at the Manchester Aquatic Centre prior to the 2022 Commonwealth Games. As a previous host Manchester has both the experience and the world-class sporting infrastructure to provide everything the team needs to train and perform at their very best," said Sheona Southern, managing director at Marketing Manchester. "We're looking forward to the team engaging with the local community to promote swimming and interest in the sport, which is a fantastic way to continue building on the legacy of the Manchester Commonwealth Games, and equally that they enjoy taking in the city's hugely improved tourism offering since 2002."
Atkinson is excited about the new partnership and the possibilities the relationship creates.
"We hope to form a strong relationship with coach Mark Rose and the City of Manchester program. The training facilities in Manchester are absolutely world class and we could not ask for a better setting," he said.
The Games are scheduled for July 27-Aug. 7, 2022, in Birmingham, roughly 100 miles south of Manchester.
"We look forward to partnering with the City of Manchester," said Swimming Canada CEO Ahmed El-Awadi. "They have a rich history of sports and working with sports in the community. This partnership will help both our national Olympic and Paralympic programs prepare for this fully integrated event.
"We're confident the city will give us the boost we need to be successful."