The Interflora World Cup is happening in the UK for the first time EVER in 2023!
The Interflora World Cup is arguably the biggest event in floristry, it's the world's greatest floral design competition. Every four years, since 1972, the best of the best amazing florists from around the world compete in a major international city to win the coveted title of Interflora World Champion.
Manchester is proud to have won its bid to host the World Cup in 2023. It will take place at the iconic Manchester Central convention centre from 7-9 September 2023 in what will also be Interflora's centenary year.

What is the Interflora World Cup?
The Interflora World Cup is an international competition showcasing award-winning floral designers from all around the world. Following on from events in Berlin in 2015 and Philadelphia in 2019, in 2023 we bring the excitement, the creativity, the flair and imagination to Manchester. Each designer is at the top of their game, putting their skills to the ultimate test for a chance to raise the World Cup 2023 trophy.
This is a once in a lifetime opportunity not only for florists, flower arrangers and students but for anyone who loves flowers or art to get to know some of the world's best floral designers and see the best floristry from around the world – a chance to learn, to be inspired and to delight in the power of flowers. But it's not only about beautiful and stunning floristry and amazing personalities and skills, this is an event like no other, and the first of its kind, a great day out with lots of opportunities to get involved and to be entertained. The Floral Street themed event will be a unique and rewarding experience with so much to do and see, a quintessentially British day out.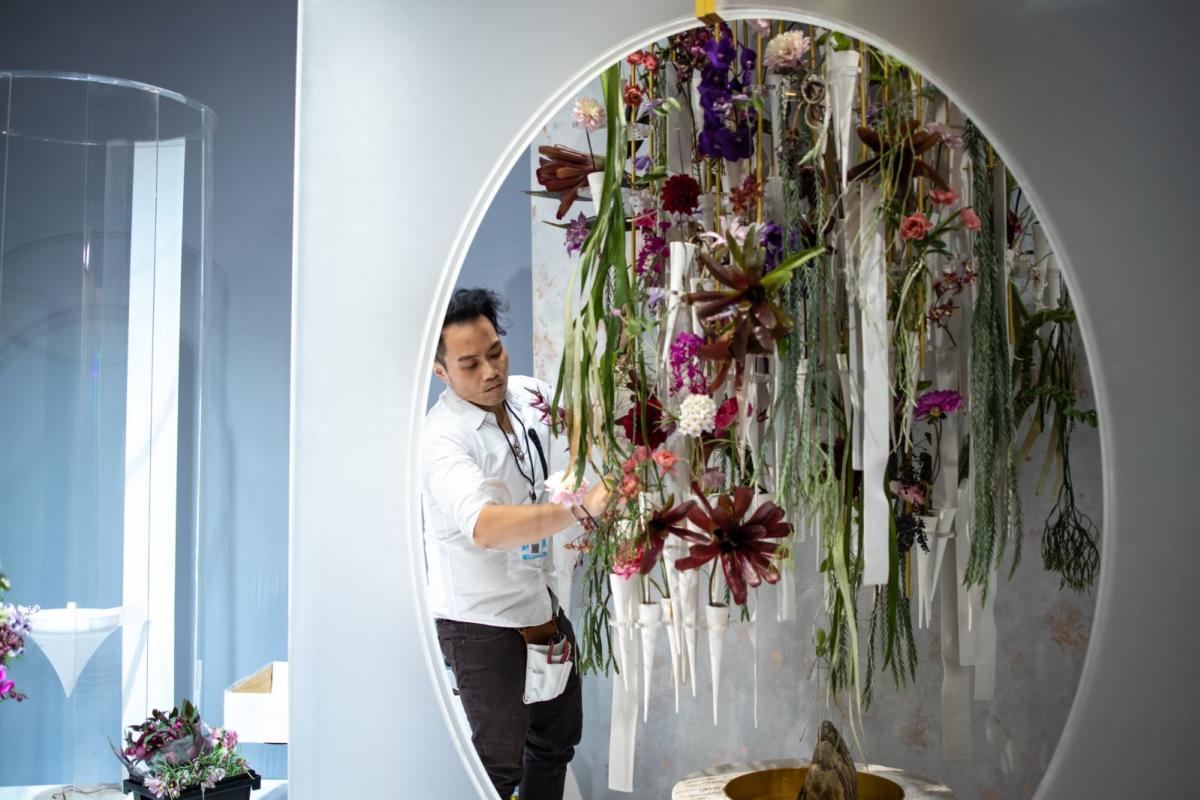 How does the competition work?
The competition runs over three days with six heats in total spread across Thursday, Friday and Saturday. The semi-final takes place on Friday evening and the grand final on Saturday evening.
Competitors will be given specific tasks to create under strict time conditions. They'll get to know about some of them in advance so that they have time to prepare but they'll also be given surprise tasks that require speed of thought and interpretation. This is where the drama and suspense really unfolds!
The theme to the overall competition pieces created will revolve around 'our natural world' where the competitors will be required to demonstrate their interpretation and respect for our planet focusing on a sustainable ethos and utilising our planets natural elements. Each unique design will celebrate our inspiring natural world and showcase the respect florists have for nature and the environment. The specific briefs are kept under wraps at the moment to keep the competitors on their toes!